The 7th International Workshop on Testing Database Systems (DBTEST) will be held on
June 15th, 2018 in the morning.
within the arrangements of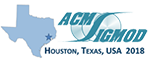 2018 ACM SIGMOD/PODS to be held in Houston, TX, USA,
on June 10th - June 15th, 2018.
News
The workshop program is online.
Keynote: DBTest 2018 will feature a keynote presentation from
Manasi Joshi, Google
Manasi Joshi is a Director of Software Engineering at Google. She is leading the ML Productivity effort with close collaborations across Tensorflow, Cloud, Applied Research and product engagement efforts in Google. Prior to this role, Manasi has a long tenure as an engineering productivity lead in Google's Display Ads infrastructure team.
on Machine Learning Testing and Productivity
Machine Learning is infused in all walks of life including a lot of Google products such as Google Home, Search, Gmail, and more, as well as in systems such as those used by self-driving cars and fraud detection systems. Google is an AI-first company and a tremendous amount of effort is being made to improve people's experiences using Google products. However, developing and deploying high-quality, robust ML systems at Google's scale is difficult. This can be due to many factors including but not limited to distributed ownership, training serving skew, maintaining privacy and proper access controls of data, model freshness and compatibility. In the face of such challenges, we started an "ML productivity" effort to empower developers to move quickly and launch with confidence. This effort encompasses building infrastructure for reliability and reusability of software as well as extraction of critical ML metrics which can be monitored to make informed decisions through the ML life cycle. In this talk, we will discuss a few examples where these efforts may be applicable.